The DM5200 is the industry's first evaluation kit supporting the MAR2200 all-digital MEMS controller integrated with the MAR1110 MEMS Mirror and the MAR3200 video controller
The MAR2200 revolutionizes MEMS control based on dynamic MEMS models, utilizing more accurate and flexible control schemes than current state of the art controllers, resulting in improved MEMS performance. Additionally, the MAR2200 produces unprecedented operational stability despite temperature changes and MEMS manufacturing tolerances. An example of its flexibility is the support of on-the-fly resolution, field of view adjustments, and easy customization for different MEMS mirrors.
The DM005200 is provisioned with a newly modified version of the MAR3200 Video controller. These new video board modifications include dramatically reducing the laser power of conventional control systems by as much as 70% for smart glasses. The video board also allows dynamic foveated rendering of pixel distribution, enabling cooler and longer battery life smart glasses designs.
HOW THE LASER SCANNING PROJECTOR WORKS
The MAR1110 is a dual-axis MEMS based scanning mirror designed for miniature laser projectors and laser steering applications. It is based on industry-leading MEMS technology with ultra-precise actuation timing to achieve sub pixel location accuracy. The MEMS actuator combines both a fast electro-static actuator and a powerful electromagnetic actuator, which provides maximum field of view, lowest power, and greatest immunity to environmental changes, like temperature, aging, and others.
The MAR1110 is controlled by the industry's first all-digital driver and controller- the newly released MAR2200. The MAR2200 is the world's first directly programmable, fully digital MEMS controller with capabilities far out reaching current analog control solutions. These capabilities include high position control of the MEMS, compatibility with different scan modes (raster, Lissajous), compatibility to different MEMS scanners, safety alarms, and more.
The Maradin DM5200 Evaluation Kit is the fastest and simplest way to see for yourself the difference Maradin MEMS technology can make to your LBS product's performance.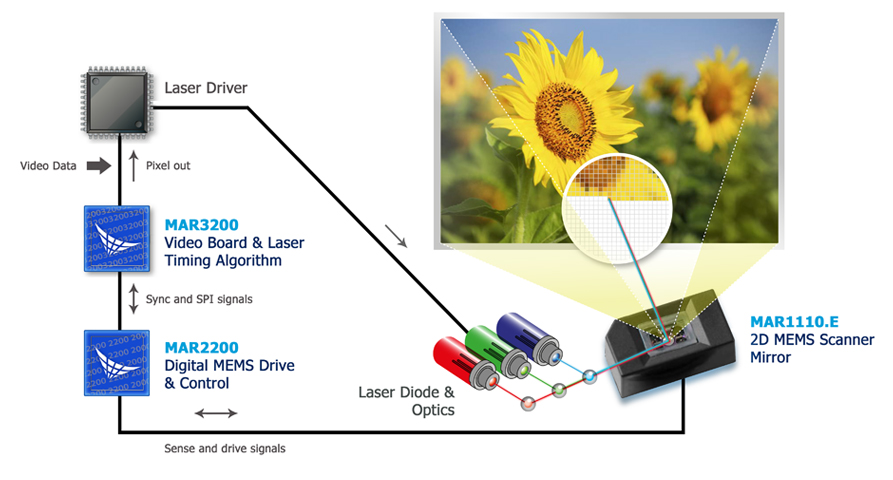 The MAR3200 is a modified version of the proven 3102 video controller. It manages the data and lasers for a full Laser Based Scanning (LBS) display. The MAR3200 has multiple image sources (pattern generator, memory stored images and HDMI video interface) providing the data for projection. The data is sent pixel after pixel, according to a modified pixel timing algorithm to on board laser drivers, supporting up to 8 laser channels. The sophisticated pixel timing algorithm enables foveated display rendering and a laser power reduction mode, dramatically reducing the laser power of conventional control systems by as much as 70% for smart glasses.
Flexibility and Customization
Maradin EVK can be modified for different operating specifications and needs.
Maradin package can be fully adapted to the needs of different systems.
The DM5200 is a plug and play evaluation kit that works with your laser light source
DM5200 Evaluation kit Common Applications
MAR1100.E – MEMS SCANNING MIRROR SPEC:
MAR1110.E General specification
| Item | Specification |
| --- | --- |
| | Typ.: 45x20 Deg. | Max: 45x30 Deg. |
| | Typ.: 1280x480 pixels | Max: 1280x600 pixels |
| | |
| | |
| | |
| Effective mirror size (H) | |
| Effective mirror size (V) | |
| MEMS Scanning Module dimensions (L x W x H) | |
| MEMS Scanning module power consumption | |
| | Typ.: Plastic, Non-Hermetic | Custom: Ceramic, Hermetic |
MAR1110.E Optical specification
| Item | Specification |
| --- | --- |
| | |
| | |
| | |
| | Typ.: 90-98% (Aluminium coating)Max: 99.5% (High Reflective Coating) |
| | >85% (Mirror & Optical window) |
| Wavelength range for reflection | Typ.: 440 -700 mmCustom: Any wavelength upon request |
| | |
MARADIN'S TECHNOLOGY INCLUDES THE FOLLOWING KEY ELEMENTS:
Maradin
Projecting the Future
Founded in
US granted
patent on MEMS,
control and system firmware
Process steps are performed in our
MEMS
process