MAR1110.E
2D Scanning Mirror
MAR1800S​
1D Scanning Mirror​
Point to Point (upon request)

2D Raster (with 2xMAR1800)
MAR1800L​
1D Scanning Mirror​
Point to Point (upon request)

2D Raster (with 2xMAR1800)
MAR1500
1D Scanning Mirror
Point to Point (upon request)

2D Raster (with 2xMAR1500)
Point to Point (upon request)

2D Raster (with 2xMAR1800)
Point to Point (upon request)

2D Raster (with 2xMAR1800)
Point to Point (upon request)

2D Raster (with 2xMAR1500)
Scanning Mirror and controller
Scan pattern: Sine, Ramp, Raster, Lissajous, Point to Point, Other
Maradin Controllers comprises of all driving and control circuits for the MEMS Scanners, in multiple directions and scanning regimes. They are efficient in power and easy to integrate. Maradin holds both analog and digital proprietary control designs. Maradin controllers verify the precise and controlled operation of the MEMS scanners in different operating conditions with minimum calibration steps, using a proprietary parallel interface.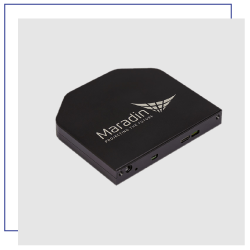 Maradin Evaluation Kits (EVKs) enable the evaluation of Maradin's laser-based projection core components, including: MEMS scanning mirrors, Controllers and system firmware. The EVKs shorten the development time, enable flexibility and a fast demonstration of laser projection based on Maradin's technology.
The MAR3102 is a Reference Design for a MEMS based laser scanning solution, comprising a MEMS scanner, driving and control electronics and a timing block to synchronize the Scanner position with Laser's data. MAR3102 enables you to design your own scanning system, based on Maradin's proprietary scanning solution, for a variety of applications. Such applications could be: laser based displays, laser based sensors and many more.
The MAR3102 is characterized as a flexible design, which simplifies user integration and shortens the time from a concept to a working system. An Evaluation Kit (DM3102), based on the MAR3102 platform is also available.
The MAR3102 platform features: a MEMS Mirror Drive and Control circuits, based on Maradin MAR2100 IC, Two Triple Laser Drivers (LDR), power supplies, a Laser to Mirror (LTM) synchronization algorithm and a data flow controller. In addition, the MAR3102 enables video to be displayed from different inputs, such as HDMI, WIFI, internal stored images and from a pattern generator.
Adding to the MAR3102 platform an optical module, which comprises of the Maradin MEMS 2D scanning mirror along with laser diodes, results in a fully functional scanning platform. The scanner could be assembled with the laser diodes in a one unified module, or separately according to user requirements. Several laser diodes' configurations are supported, either RGB, IR, RGB+IR, or custom defined.
Maradin
Projecting the Future
Founded in
US granted
patent on MEMS,
control and system firmware